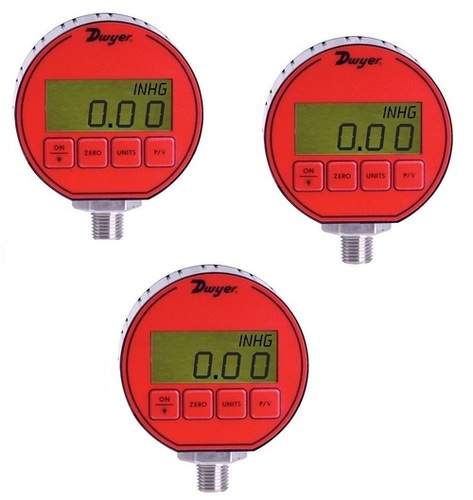 DWYER USA DPG-208 Digital Pressure Gage
Product Code : DWYER USA
Product Description
Series DPG-208 Digital Pressure Gage,

500 psig 3-in-1: Gage, Transmitter & Switch

The Series DPG-200 Digital Pressure Gage has a precise ±0.25% full scale accuracy. The 4 digit digital display will reduce the potential for errors in readings by eliminating parallax error commonly produced with analog gages. The DPG-200 is packaged in a durable extruded aluminum case designed to meet NEMA 4X (IP66). The unit is powered by 12-24 VDC/VAC and contains two alarm set points along with a 4-20 mA process output. A four-button keypad allows easy access to features. These features include backlight, peak and valley, auto zero and conversion of the pressure units.

DPG-208

Digital pressure gage, selectable engineering units: 500.0 psig, 35.15 kg/cm², 34.48 bar, 1018" Hg, 1154 ft w.c., 1124 ft seawater @ 4°C, 3448 kPa, 8000 oz/in².

Level Control
Pump Control
Process Control
Compressor Control