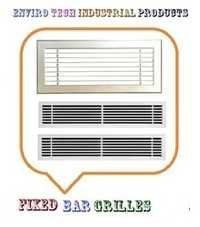 Fixed Bar Grilles
Product Description
Fixed Bar Grilles

We present to our clients, a wide range of Fixed Linear Bar Grilles. These Fixed Linear Bar Grilles are made up of finest quality material. Also, the high reliability and durability of these Fixed Linear Bar Grilles attracts the clients most. We manufacture these Fixed Linear Bar Grilles as per the world class standards and parameters.
Features:
Deflection bars are fixed and are parallel to the long dimension
Diffusers are supplied in length of up to 2000 mm in single section
Ideal for continuous length application
Available with horizontal vanes inclined at 0,15,30,45 deg and a spacing of 13 mm.
Multiple sections are supplied with alignment strips on the frame & sub frame to provide superior positive alignment.
Standard finishes are natural anodized or power coat broken white
Applications:
These grilles are ideal for return air, exhaust air and fresh air intake in sheltered location
If used for fresh air. The grille must be located in sheltered location
Construction:
Supply, Return, and Exhaust grills for all ventilation and air -Conditioning applications.
These grilles are ideal for residential and commercial refrigerated air conditioning evaporative cooling are heating applications.
Yes! I am interested