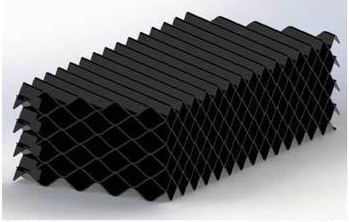 Product Description
PVC Evaporate Cooling Pad


The fill is of rigid ploy vinyl chloride (PVC) and is of Honey Comb design with very large contact surface area. The fill splits the air and water into several streams, increasing the time of contact and also heat transfer between water and air.
The fill is in modules and is packed in the air washer & tower casing without any cutting for curves.
The air pressure drop through the fill is negligible. The fills are available with flute height of 6mm, 12mm, and 19mm with sheet thickness of 1mm and 1.2mm.Size available as per client requirement.