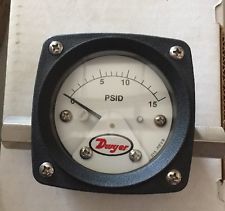 Product Description
Series PTGB Differential Pressure Piston-Type Gage

Over Pressure Rating to 6000 psig, ASME Grade B 3-2-3% F.S. Accuracy

Series PTGB Differential Pressure Piston-Type Gage
Bookmark and Share
This product has been discontinued, see Series PTGD as a suggested replacement.

SpecificationsService:Compatible gases and liquids.Wetted Materials:Gage body: Aluminum or 316L SS; Piston: 316 SS; Spring: 316 SS; Ceramic Magnet; End Plugs: Aluminum (Aluminum Body), 316L SS (SS Body); Seals: Buna-N (standard).Dial Case:"Engineered Plastic" with shatter-resistant acrylic lens.Accuracy:±3-2-3% of full scale in accordance with ASME B40.100 Grade B.Pressure Limits:Working pressure 6000 psig (400 bar); Proof Pressure 12,000 psig (827 bar).Temperature Limits:-40 to 200°F (-40 to 93°C).Size:2.5" (63 mm) or 4.5" (115 mm).Mounting Orientation:Mount in any position.Process Connections:1/4" female NPT end connections standard; 1/4" female NPT back connections optional.Weight:Aluminum: 2.5": 0.60 lb (0.27 kg), 4.5": 0.95 lb (0.43 kg); 316 SS: 2.5": 1.35 lb (0.61 kg), 4.5": 1.60 lb (0.73 kg).